UF researcher: New low-carb potato to debut in January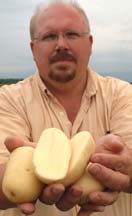 Potatoes may be on the no-no list for high-protein diets, but a University of Florida researcher says a new low-carb potato will help win back die-hard carbohydrate counters.
"Consumers are going to love the flavor and appearance of this potato and the fact that it has 30 percent fewer carbohydrates compared to a standard Russet baking potato," said Chad Hutchinson, an assistant professor of horticulture with UF's Institute of Food and Agricultural Sciences.
"The potato doesn't look or taste like anything that's now on the market, and it's not a genetically engineered crop," Hutchinson said. "When it comes to beautiful potatoes, this one is a real winner for growers and consumers."
Hutchinson, a potato expert, said five seasons of evaluation in his research program at UF show the tuber can handle Florida weather extremes and is ready to be marketed as a premium, gourmet potato. UF is the first test site in the United States for the European import, which was developed by HZPC, a seed company based in the Netherlands.
Available to consumers in January 2005, the new spud will be marketed under a yet-to-be determined name, and it is expected to be a boon for Florida's $120 million potato industry.
Hutchinson said 3 ½ ounces of the new potato contain about 13 grams of carbohydrate compared to around 19 grams in the same size serving of a Russet Burbank potato.
"Although potatoes are not part of the Atkins diet, the fact of the matter is that potatoes contain no fat, and they are a good source of fiber, protein and vitamins. They have vitamin C and B-6, and they are low in sodium and high in potassium. And, potato skins are an excellent source of fiber," Hutchinson said.
Independent research in Canada confirmed the spud's low-carbohydrate profile. Hutchinson said it is due in part to the lower specific gravity, which relates to the amount of starch in the potato, compared to the more widely recognized Russet Burbank baking potato. "The smooth, buff-colored skin and light yellow flesh will make this potato an attractive and tasty alternative in many traditional potato recipes," he said.
To prepare for what they hope will be a surge in potato consumption by consumers and food processors, Florida potato growers have formed the SunFresh of Florida Marketing Cooperative.
Wayne Smith, president of the cooperative in Hastings, said commercial growers will plant their first crop in September for a January harvest, and the potato can be grown throughout Florida's potato-growing areas. Markets for the Florida tubers include the U.S. Northeast and Canada.
Don Northcott, marketing manager for HZPC Americas Corp. on Prince Edward Island, Canada, said the new variety grows in a short period of time. The potato can be harvested in 65 to 75 days compared to more than 100 days for existing potato varieties grown in Florida. The shorter growing period will allow spring and fall crops to be produced for harvesting from January through June.
"The variety has high tolerance to environmental stresses like high temperatures or dry weather. In fact, under warm-weather conditions, this variety develops an extremely attractive appearance in terms of brightness of skin and smooth appearance," Northcott said.
He said the potato skin develops early, which enhances resistance to mechanical damage so the potatoes can arrive on store shelves with minimal defects. The variety has some resistance to tuber greening, which increases store shelf life.
"The combination of good Florida soils, warm temperatures and the experience of Florida producers sets the stage for delivery of a fresh potato flavor treat for consumers in northern areas of the U.S. as well as Canadian consumers," Northcott said. "We are looking forward to the first crop of fresh, low-carb potatoes from Florida this coming January."
Media Contact
Chad Hutchinson
University of Florida
Alle Nachrichten aus der Kategorie: Agricultural and Forestry Science
Zurück zur Startseite
Neueste Beiträge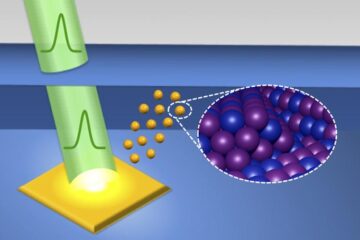 Pulsed lasers in liquids speed up hunt for effective catalysts
Chemical catalysts are the change agents behind the production of just about everything we use in our daily lives, from plastics to prescription drugs. When the right catalysts are mixed…
Cell-to-cell contacts control liver regeneration
Dresden and Cambridge researchers identify cell type that regulates liver regeneration with touch. From the time of Aristotle, it has been known that the human liver has the greatest regenerative…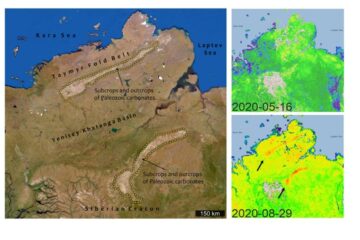 Thawing permafrost releases greenhouse gas from depth
In a study led by the University of Bonn, geologists compared the spatial and temporal distribution of methane concentrations in the air of northern Siberia with geological maps. The result:…