Unlocking farm forest potential, buffering market volatility, disability on Irish farms and …
Unlocking Farm Forest Potential
Maximising the potential of farm forestry is the objective of a new Teagasc research project. This new initiative comes at a time when much of Ireland's private forests are approaching first thinning. In an article for the Spring 2008 edition of TResearch, the Teagasc research and innovation magazine, details of the new research being carried out by Teagasc and funded by COFORD are outlined. This work involves capturing growth information on forest plantations using available database resources from the Forest Service. Remotely sensed imagery such as aerial photography, satellite imagery and airborne laser scanning (LiDAR), and field-based measurements are also being used.
A critical mass of private forestry is now developing in Ireland, with over 219,000 hectares planted since 1980. Many of these plantations are coming to the stage where management decisions are required. Currently, 105,000 hectares of private forests are over 10 years of age. Recent research indicates that if only 50 per cent of private owners decided to thin their plantations, the annual output from farm forest first thinning could potentially rise to in excess of 200,000 cubic metres.
Key clusters of forest plantations that are approaching first thinning stage have been identified using Geographic Information Systems (GIS) and, results indicate that a large proportion of private forests are concentrated in 16 distinct geographic areas. One such cluster located in the North West will be visited in the field, where an assessment of timber quality and volume will be performed. A database will be compiled and the volume of each stand will be calculated using forest growth models. These will be used to generate forecasts of volume production by projecting the growth of stands forward to a reference age and quantifying the effects of thinning a crop. A forecast for timber production will be made and will be used as the main tool for further development work, especially in the identification of suitable locations for new market opportunities. Using GIS technologies, further analysis will be performed such as: distance of plantations from sawmill; optimum haulage route; and, the optimal location of additional wood utilising facilities, such as wood energy boilers.
Buffering Market Volatility
Markets for the main agricultural commodities are becoming increasingly volatile, with prices fluctuating between higher peaks and lower troughs.
In the latest issue of TResearch, Teagasc economist Liam Dunne argues that there is a compelling case for individual countries to contribute financially towards an internationally agreed minimum global reserve grain buffer to reduce market volatility for both grain and other food products. The cost of which might be allocated via some mechanism related to their share in production, consumption and trade.
He said: "Since most countries are now part of the WTO, and the aim of this organisation is to facilitate freer trade, why not have the creation, management and financing rules for the minimum world grain buffer stock part of the next WTO agreement? Also, the actual day-to-day management of these buffer stocks and related finances, plus physical storage, could be operated through a mechanism similar to those currently used for carbon trading." Liam Dunne continues: "Apart from the social and ethical benefits of reducing the extreme volatility of world grain prices, a grain buffer that stabilises grain and food prices also helps to stabilise farmers' output prices and related input (feed) costs, general wage demands and knock-on cost increases in industry and society in general."
Disability on Irish Farms
Supports for farmers reporting disability are largely insufficient. Walsh fellow, Shane Whelan has been researching the incidence of disability on farms. He has found that the provision of services/supports to farm operators reporting disability is, however, largely insufficient across the entire spectrum, from when farm operators first experience disability, right through to retirement.
Shane Whelan explains: "Current service/support provision often leads to frustration, as family members have to make considerable personal sacrifices to keep the farm functional. Disability has traditionally been perceived as a problem associated with old age, yet this study found that the average age of farm operators experiencing disability was only 52 years, with 82 per cent below the age applicable for the Early Farm Retirement Scheme when disability was first experienced (the mean age was 39 years). Quality services/supports need to be available in such circumstances, so that these farm operators can reach their full potential and continue successfully in production agriculture."
Research on Reducing Labour for Calving and Calf Feeding
Feeding cows at certain times of the day can influence the time of day that calves are born. This was one of the findings of studies examining ways of reducing the labour input on dairy farms.
Calving supervision and rearing calves are some of the most challenging tasks on the dairy farm, particularly with a spring milk production system, where 90 per cent of calves may be born over a twelve week period. A series of studies was undertaken at the Teagasc dairy research centre in Moorepark to establish management practices that would have the potential to reduce the labour requirement during this busy period.
One of their findings was that by only allowing pre-calving cows' access to grass silage between 8.30pm and 10.30am, fewer cows calved at night leading to a lower labour requirement during night-time hours.
The main factors influencing labour input were found to be herd size, calf feeding system and calf house cleaning methods. As herd size increased, labour-saving practices such as ad lib feeding of milk, mechanical milk transfer and feeding of cold milk are more likely to be used. Calves can be reared successfully using a once-a-day whole milk feeding system when calves are fed as a group and weaned from milk early (42 days), with a reduced labour requirement.
The above articles are featured in TResearch, Volume 3, Number 1, Spring 2008, which can be downloaded from: www.teagasc.ie.
All latest news from the category: Agricultural and Forestry Science
Back to home
Newest articles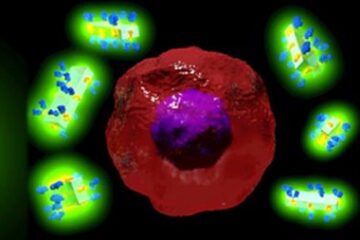 A world-first antibody-drug delivery system
It sounds like the stuff of science fiction: a man-made crystal that can be attached to antibodies and then supercharge them with potent drugs or imaging agents that can seek…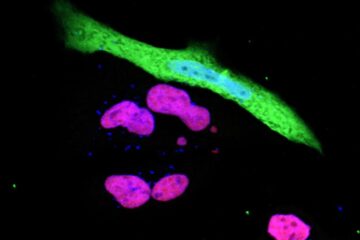 Revealed: How SARS-CoV-2 evades our immune system
Scientists at Hokkaido University and Texas A&M University have identified a key mechanism used by the SARS-CoV-2 virus to evade host immune systems. Researchers in Japan and the United States…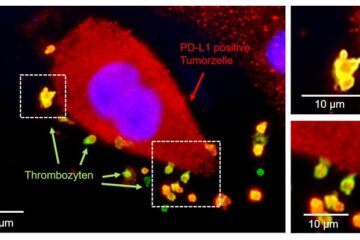 New approach developed to predict response of immunotherapies in lung cancer
New methodology at the University Hospital of Tübingen harnesses the function of platelets. At Tübingen University Hospital, a preclinical study led by Dr. Clemens Hinterleitner and Prof. Dr. Lars Zender,…